It is a time of growing chaos among the
nations and people of the world.
A time when kings and colonies, dictators and democracies vie
for power, maneuver for position and fight for independence.
From Rumania to Portugal, a revolution of militarism and conservatism sweeps Europe. In the Far East, a late blooming lust for empire sends the soldiers of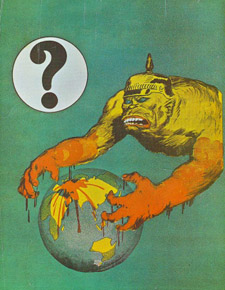 Nippon into Korea, then Mongolia, Manchuria, and finally China. Bogged down and without resources to sustain their endless quagmire of expansion, the agents of the Emperor look even further south … to the wealth of the Indies
In the wake of depression and failed reconciliation the sun has began to set on the once mighty empires of Britain, France, and Holland. Under threat from the newly emerging Axis powers and internal pressure from native populations, officials in the European colonies are unsure whether they will be militarily abandoned by the mother country or become the last bastions of hope, battling on long after the homeland has surrendered.
Another World War is imminent but exactly who will begin fighting whom, and over what, is not yet known ...


CLICK HERE
Ponga Jim Mayo and
the Merchant Marine

Mike Thorn and
the Mercenaries

The Ships, Subs,
Aircraft and Technology