The Flux-Gate Magnetometer
The flux-gate magnetometer is a device designed to measure the three vector components of a magnetic field rather than its magnitude. It employs three sensors, each aligned with one of the three components of the field vector. Each sensor bar is wound with a primary coil, but the direction in which the coil is wrapped around the bars is reversed. An alternating current (AC) is passed through the primary coils causing a large, artificial, and varying magnetic field in each coil. This produces induced magnetic fields in the two cores that have the same strengths but opposite orientations, at any given time during the current cycle.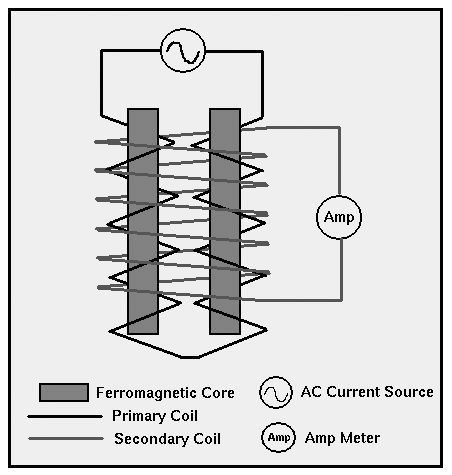 The magnetic fields induced in the cores by the primary coil produce a voltage potential in the secondary coil. In the absence of an external field (i.e., if the earth had no magnetic field), the voltage detected in the secondary coil would be zero because the magnetic fields generated in the two cores have the same strength but are in opposite directions (their effects on the secondary coil exactly cancel). In the presence of an external field component, the behaviour in the two cores differs, by an amount which depends on the external field.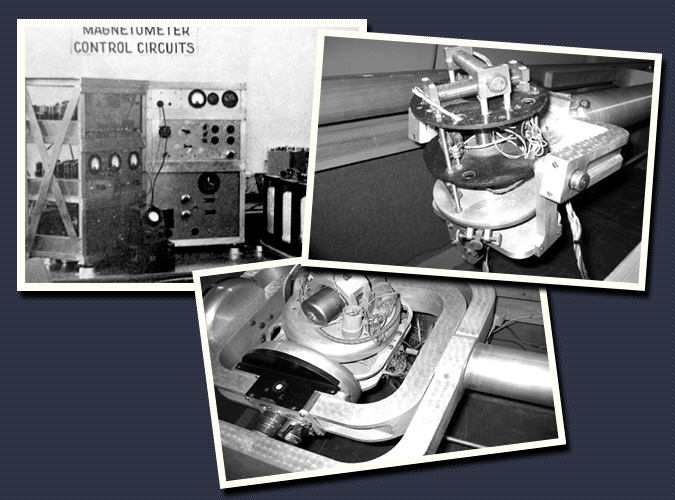 Measuring the magnetic field of the earth has been routinely done since the earliest compass was invented by the Chinese over two thousand years ago. Every Boy Scout knows that the compass needle points north. But the needle doesn't lie flat; it tends to dip north. The amount it dips and the direction it points reflect two components of the Earth's magnetic field. Magnetometers record the strength of those components.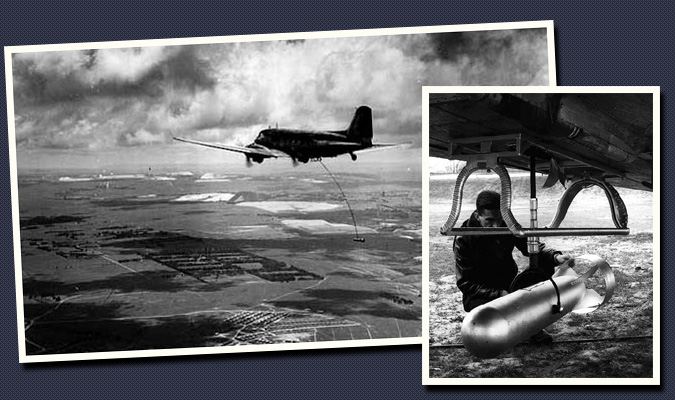 Gulf Oil Company developed a device to make the measurements from a moving aircraft in 1939. Electrical engineer Victor Vacquier led the research. The Navy flew the magnetometer over a submerged US submarine. It was easily detected. The National Defense Research Council immediately hired 200 physicists and electrical engineers to develop the airborne magnetometer for military use.
The airborne magnetometer uses a fluxgate principle. It's simple in concept. We wrap two coils around an iron core. We pass an alternating current through one of the coils. This drives the iron core through an alternating cycle of magnetization. This changing magnetic field in turn induces an electrical current in the second coil. The difference in the currents is the strength of an external magnetic field, in this case Earth's magnetic field.
The commercial version of the fluxgate magnetometer was used in mineral exploration. In ore body exploration, the applications are direct, survey an area and look for anomalous indications. In finding petroleum, the problem is indirect. The magnetic information is used to estimate the depth of magnetized rocks, usually the basement (the first layers below sedimentary rocks). Using those estimates, the location of thick sedimentary layers can be mapped. Those are the primary targets of petroleum exploration.

Ponga Jim Mayo and
the Merchant Marine

Mike Thorn and
the Mercenaries

The Ships, Subs,
Aircraft and Technology