The Captured Arado AR-196A V5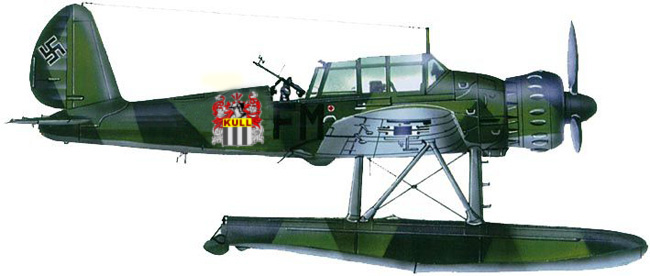 Powered by a BMW 132 nine-cylinder radial air-cooled engine, the Arado 196 offered an advanced monoplane design with one 20 mm MG FF cannon in each wing, a 7.9mm MG 17 forward-firing machine gun in the fuselage nose, and one or two MG 81Z (twin 7.9-mm MG 81s) with 2.000 rounds each in the aft cockpit for defense. The floatplane could also haul a 50 kg (110 lb) bomb under each wing. In addition to its amphibian capabilities, the AR 196 could be launched from a small catapult mounted on the deck of a ship.
The plane was loved by its pilots, who found it handled well both in the air and on the water with performance exceeding that of its Allied counterparts.
Design changes made for Count Franz Kull included a larger fuel capacity extending its standard range of 1,070 km (665 miles) to nearly 1,800 km (1,125 miles) giving it an unmatched ability to perform reconnaissance and infiltration missions. The landing gear (stowed in the pontoons) was upgraded to a more robust system to allow for open field landings in addition to runway or carrier operations.


Ponga Jim Mayo and
the Merchant Marine

Mike Thorn and
the Mercenaries

The Ships, Subs,
Aircraft and Technology