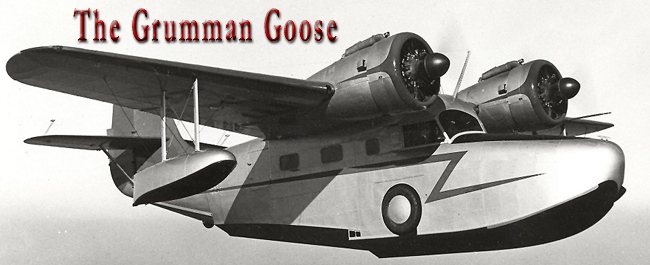 The Grumman Goose was an American monoplane seaplane based on a pre-war G-21 design which had shown remarkable durability. Initially designed as one of Grumman's passenger seaplanes, the aircraft went on to military use (JRF-1 : JRF-6 depending on role), and civil service worldwide.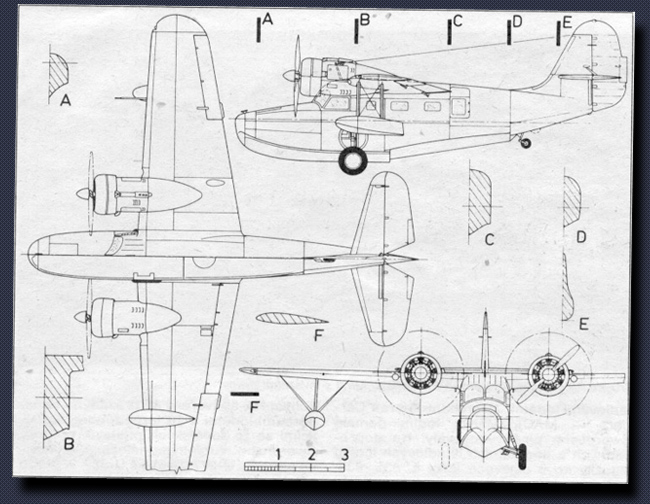 Originally conceived as a 6-7 seat 'commuter' plane for businessmen in the Long Island area, the first deliveries off the Goose production line were made in 1937. The USN showed an interest in the amphibious aircraft in 1938, eventually acquiring 222 of the type. The aircraft also served with the US Coast guard and the US Army, before serving in a military role with Britain, Canada, France, and Portugal. A total of 376 aircraft were built by 1945. Subsequent modifications have seen some of the aircraft modified to use turbine powerplants.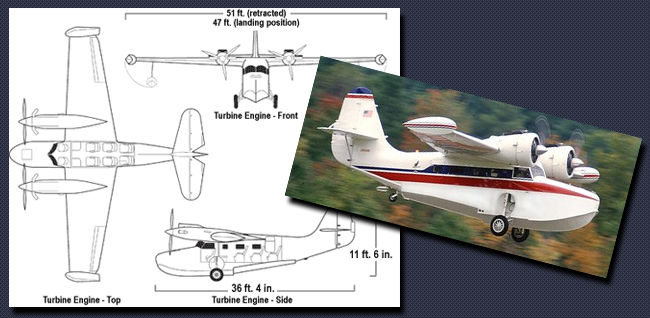 Available modifications included retractable wing floats, upgraded turbine engines
(later models), twin machine guns and mounts for external fuel tanks or bombs.
Photo above shows retractable wing floats and original radial engines.
The Grumman was produced in a number of variants ALL called Goose by Grumman itself. The Brittish version was the 0A9 and called the Goose. When Turk Madden got his hands on one, it was an expiramental job, an improvement on the OA-9. No bigger, but much faster, with greater range, and capable of climbing to much greater heights. Also, it was armed like a fighting ship.
Aircraft Type:

Grumman Goose 

Primary Role:

Transport: Cargo and Personnel

Manufacturer:

Grumman

Engine:

Two Pratt & Whitney 450-hp R-985-148

 Wing Span: Length: Height: Wing Area: 

 Span : 14.95m (49'0ft) 
 Length : 11.7m (38'4ft) 
 Height : 4.57m (15'0ft) 

Empty Weight: Max.Weight:

Weight empty : 2,461kg (5,425lb), max : 3,629kg (8,000lb) 
max speed : 323km/h (201mph) 
max climb : 1,100ft/min (335m/min) 
ceiling :21,000 ft (6,405m) 
range : 1,287km (640miles) 

Armament: 

Classified

Crew:

Accomodation 7-10

Battle honours:

Classified

Additional references and notes:

Purchased by Alouitious "Turk" Madden
Ponga Jim Mayo and
the Merchant Marine

Mike Thorn and
the Mercenaries

The Ships, Subs,
Aircraft and Technology