In the seemingly peaceful East Indies,
American Jim Mayo is broke and 'on the beach'
in Gorontalo, a port on the island of Celebes.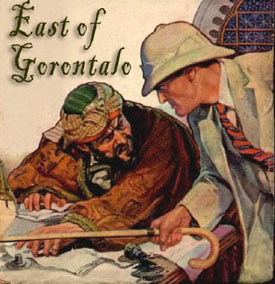 He has just quit his position as captain of the S.S. Natuna, a freighter now owned by a shady combine headed by Portuguese "Pete" Lucieno, a trader in "exclusive," "restricted," or just flat out illegal merchandise.  The Natuna is being loaded from the S.S. Carlsberg of Copenhagen, a ship that was once German and seems to now be taking advantage of Holland's neutral status to move clandestine merchandise into the Far East.
Mayo alerts Major William Arnold, a British intelligence officer.  However, he also decides to take action himself by stowing away on the Natuna and attempting to disrupt it's mission to sow weapons and disrupt the peace along coast of south eastern New Guinea.  A territory administered for the British by Australia … an Australia already committed to defending the Middle East and North Africa.

GORONTALO BAY (click for larger image)
The lofty shores of the Golf of Tomini are broken by the river
draining the Limboto depression some miles inland.
Hills rise steeply from each side of the deep bay.

Ponga Jim Mayo and
the Merchant Marine

Mike Thorn and
the Mercenaries

The Ships, Subs,
Aircraft and Technology