Great Britain Responds!
I

n response to wartime desperation Great Britain revives it's old war horse, Winston Churchill.  A hard man, capable of making hard decisions, he is an appropriate choice for a country with it's back against the wall.  All of southern England heroically pitches in to evacuate their defeated armies from France, saving them to fight another day.  As the German Army invades Holland, Nazi agents move into the Netherlands East Indies to take direct action, rather than relying on intermediaries as they have in the past.
"That cargo to Banggai looks like a load of trouble, if you ask me." Major William Arnold said grimly.

"William," Ponga Jim said pointedly, "I need that money. Everything I got in the world is in that old tub down there by the dock."

In Makassar, a port city on the South-East coast of the island of Celebes, Ponga Jim Mayo again runs afoul of the activities of the S. S. Carlsberg, a vessel secretly supplying Nazi agents.
Jim loads a last minute cargo of drilling equipment bound for Banggai along with several suspicious looking passengers. 

The passengers are obviously German and Mayo is afraid that the Gestapo wants to put him out of the picture for the trouble he has already caused them.  But payments on the ship are due and he needs the money. 

So following some ill timed trouble in a waterfront bar, he clears from the Juiliana Quay with the passengers and freight for Banggai, Bonthain, and Menado.  The passage takes them past Kabalena and Batu Sengia. 
During their trip the mysterious passengers alter the destination of their cargo from Banggai to the tiny island of Tembau on the edge of the Greyhound Straight and it's notorious port called Tukoh Bay, a resort for all the renegades in the islands.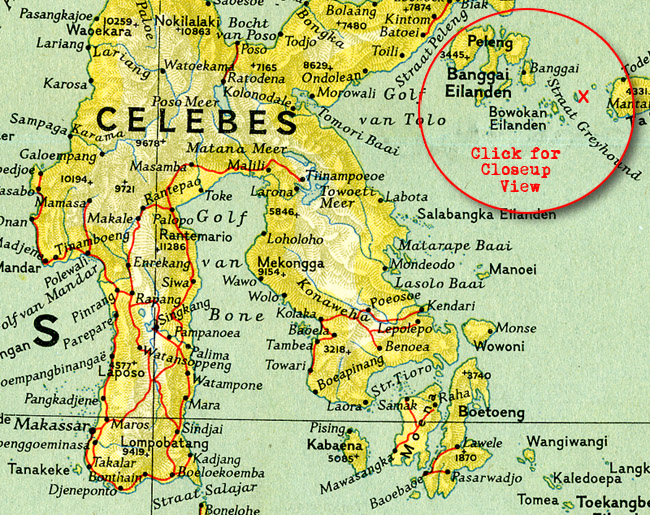 Ponga Jim Mayo and
the Merchant Marine

Mike Thorn and
the Mercenaries

The Ships, Subs,
Aircraft and Technology