Men of Destiny
The Amiercan - Soldier, Warrior, Hero . . . Traitor!!
He was a military hero for both sides in the same war. He began his career as an American Patriot in May 1775, when he and Ethan Allen led the brigade that captured Fort Ticonderoga on Lake Champlain. His heroics continued in September, when he led an expedition of 1,150 riflemen against Quebec, the capital of British Canada. The American commander drove his men hard through the Maine wilderness, overcoming leaky boats, spoiled provisions, treacherous rivers, and near starvation to arrive at Quebec in November, his force reduced to 650 men.
Undetoured and joined by General Richard Montgomery, who had arrived with 300 troops after capturing Montreal, his forces attacked the strongly fortified city, only to have the assault end in disaster. A hundred Americans were killed, including Montgomery; 400 were captured; and many were wounded, including himself, who fell as he stormed over a barricade, a rifle-ball through his leg.
Quebec was only the beginning. For the next five years he served the Patriot side with distinction in one battle after another, including a dangerous assault against the center of the British line at Saratoga, where he was again wounded in the leg. No general was more imaginative than he, no field officer more daring, no soldier more courageous.
Congress officially thanked him, along with Generals Gates and Lincoln for the great defeat of Burgoyne at Saratoga. Thanks in part to his friend, George Washington, his rank was now adjusted to Major General, as of February 17, 1777, giving him the seniority he so wanted and deserved.
Yet he has gone down in history not as a hero but as a villain, a military traitor who, as commander of the American fort at West Point, New York, in 1780, schemed to hand it over to the British.
Unable to command, due to his leg, he was sent to Philadelphia, where he married Peggy Shippen, a 19 year old girl of British sympathies, and later had four sons. His marriage brought him social status, however, it was something he really could not afford. The couple lived well beyond their means, and as a result, he entered into some shady business dealings, including shipping, real estate speculation and authorizing the use of government supplies for his own personal needs. He was soon brought up on charges and was court-martialed. He defended himself, furiously as always, but he was found guilty of using government wagons for his personal use and issuing a pass to a ship he later invested in. Washington, himself pronounced the charges "imprudent and improper" and "peculiarly reprehensible."
By May of 1779, he had begun bargaining with the British. Angry and hurt over the many slights he received over the years, he probably felt unappreciated by his country and those he fought with, even sacrificing his own leg for the cause. His pride was most likely the biggest piece of his life that was damaged — humiliation was always an affront he could never take. Money, of course, played a big part. He was offered in excess of 10,000 pounds and a commission in the British military.
Of his role in this conspiracy there is no doubt. His British contact, Major John Andre, was caught with incriminating documents in his handwriting, including routes of access to the fort. Fleeing down the Hudson River on a British ship, Benedict Arnold defended his treason in a letter to George Washington, stating that "love to my country actuates my present conduct, however it may appear inconsistent to the world, who very seldom judge right of any man's actions."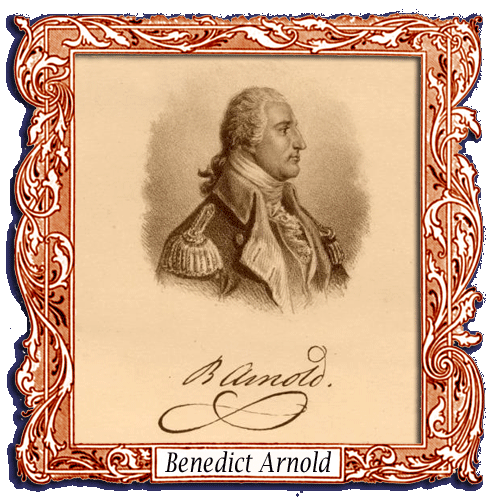 The Frenchman - Bishop, Statesman, Political & Social Visionary . . . Traitor!!
During his long political life he went from the Ancient Regime to the beginning of the Industrial Revolution. Born in the Age of Enlightment, for which he was a so perfect representative, he died with the triumphant arrival of the liberal industrial bourgeoisie. He worked successfully from the regime of Louis XVI, through the French Revolution and then under Napoleon I, Louis XVIII and Louis-Philippe. He survived these changes of political and social structures without giving up an inch of his liberal thoughts, but very often at the cost of compromises imposed by the different successive powers he was serving . . . and it is not quite sure he was faithful to them.
In 1792, he was sent twice, though not officially, to Britain to avert war. Besides an initial declaration of neutrality during the first campaigns of 1792, his mission ultimately failed. In September 1792, he left Paris for England just at the beginning of September Massacres, yet declined the émigré status. Because of incriminating papers found in the armoire de fer, the National Convention issued a warrant for his arrest in December 1792. His stay in England was not uneventful either; in March 1794, he was forced to leave the country by Pitt's expulsion order. He then arrived in the United States where he stayed until his return to France in 1796. During his stay, he supported himself by working as a bank agent, involved in commodity trading and real-estate speculation. He was the house guest of Senator Aaron Burr of New York. Talleyrand years later refused the same generosity to Burr because Talleyrand had been friends with Alexander Hamilton.
Talleyrand was skilled in the art of manipulation, yet the evidence would suggest that he was motivated by a love for France and genuine concern for its welfare. During the Congress of Vienna, Talleyrand had championed the cause of legitimacy and justice. He had done everything in his power to raise France from the position of a defeated, second class power to one of equality with the Great European powers. When judged by modern standards his methods seem unethical and corrupt, but taken in the context of the era in which he lived, Talleyrand was typical of the politician of this period.
It is no wonder that "The Limping Devil," (a nickname derived from his club foot, or an injury at age 4, depending on who you ask) continues to be the subject of many controversies even today. He was intelligent, tenacious, favoured diplomacy over war and violence, he was a true patriot of his country, met almost all of the great persons of his age, and knew how to effectively use power.
As to what Talleyrand might have thought of his protector had the Meeting at Fallmouth occured as written here, well he is quoted as saying "Treason is a matter of dates."